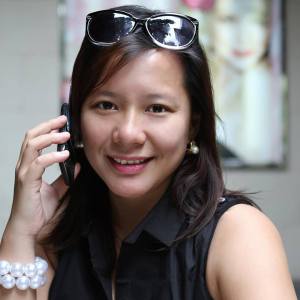 491 Quezon Boulevard, Manila, Metro Manila 1001
A FILIPINA STARTUP FOUNDER WANTS YOU TO DRIVE AMBITION
Feautured in Manila Time's Women in Business 
Kassy Pajarillo, chief encourager of The After Six Club and an international, independent LinkedIn trainer and speaker, shares how she embraced ambition and made use of her talents and skills to pursue her advocacy
"The person who I dearly admire and hope to meet and be mentored by one day is Vishen Lakhiani, the CEO of Mindvalley.
"I admire how he was able to build and influence a community to be in control of their minds, and his drive towards taking good care of people first and how [his company operates] with mindfulness and kindness," says Kassy Pajarillo, the chief encourager and co-founder of The After Six Club who also happens to be an international, independent LinkedIn trainer and speaker.
Just like her business idol, Kassy's goal is to make mindful leadership and workplace culture the priority rather than the afterthought, keep human connections and interactions thriving, and for everyone to embrace ambition through The After Six Club.
The After Six Club is an empowerment platform that publishes, executes, and supports unique events and experiences for and by communities and causes that have a goal to empower humans and encourage them to embrace ambition.
"When I started The After Six Club, I kept on watching the story of Vishen Lakihani on YouTube. His story became my guidance on how to talk to people and set up a collaborative environment towards achieving a common goal. It was hard work and heart work," Kassy adds.
Kassy's Many Hats
Kassy has had a long and varied career path that had its roots in the hospitality industry. She has worked as a guest services associate, a hotelier, a sales and marketing professional, a business development manager, a financial advisor, a marketing communications head, a yoga instructor, an influencer, and more.
Her work experience in different fields has helped shape her to be a start-up entrepreneur that she is today—and she is not shy to acknowledge its contributions to her career path. "'The hospitality industry is the best entrepreneurship training you'll ever get into' said my former and last boss in the hospitality industry," says Kassy.
In early 2018, Kassy met up with fellow Filipinos on LinkedIn, which led to speaking opportunities—and eventually The After Six Club. "LinkedIn has been an essential tool to meet people when I was still accomplishing a scholarship opportunity to complete a course at Cornell University. From there, I met successful men and women in the hospitality industry—general managers from top properties [around] the world, sales directors, marketing communications heads, and hospitality professors—[and actively] exchanged thoughts and discussions," Kassy shares.
"On January 2018, I met few Filipino LinkedIn connections who, like me, wanted to see who else are active in Manila. I met one of the people who spearheaded #LinkedInLocal in Australia and guided us through on how they were able to mount a LinkedIn gathering," she adds. That same month, Kassy and her new connections held their first LinkedIn gathering in Bonifacio Global City, and the rest, according to her, was history.
There Are No Accidents

It was through these LinkedIn gatherings that the idea for The After Six Club started to gain momentum. As an advocate of transformative education and lifelong learning, Kassy gathered all the lessons she learned from her work experiences to start her new co-learning for co-working space.
"Just like being a hotelier, all you need is a space for you to call as your playground. I figured there are a lot of people like me who are looking for a place to launch, learn, and build their own businesses yet they don't have much capital to pay for expensive venue fees and may not have the marketing background on how to mount an event and run a campaign," she says.
The goal of The After Six Club is to bring together people of all ages, backgrounds, and interests, and connect with them to build a community of entrepreneurs, go-getters, and lifelong learners.
"Sometimes, all you need is that one (or two, or three) people to believe in you for you to finally make that jump and give your 100 percent in building a business. The After Six Club was born, and we have Bonifacio Global City (including Clock-in Bonifacio High Street) to thank for believing in us, for supporting us up to this day, and for blessing us to go ahead and scale," Kassy says.
Today, The After Six Club hosts various events and meetups weekly, creating impact by connecting people and fostering their personal growth. It might seem that everything leading up to the creation of The After Six Club was purely coincidental, but Kassy stresses that it wasn't the case. "Everything happened by fate and accident, but I guess there really is no accident when the calling comes to you."
CAREER GROWTH TAKEAWAYS
Throughout her journey, Kassy has learned a fair few lessons that helped her move her career forward—and led her to the path to start-up entrepreneurship. Here, she shares five of her key career and business takeaways:
Get Up And Go
There's no better way to make your dreams and goals come true but to start now, learn by doing, and be consistent.
But Don't Be Hasty
Don't quit your job too soon just because you're fed up with your boss. You're going to need cash flow to survive and subscribe to the essentials such as web services, hosting, email solutions, writers, graphic designers, developers, and more to get your business idea off the ground.
Be Ready For Pivots
Business plans are great but always be ready for the unexpected. Be obsessed and fall in love with your customers, but don't get swayed or venture too far from your main goal.
Give, Give, And Give
Learn to connect and collaborate with a win-win offering. Don't start a business with the sole purpose of earning big bucks. Your reason and purpose should be beyond money.
Gather And Make A Habit Out Of Your Best Practices
Your college degree and the industries you've been in are an extension of what you need to learn, but the work ethic and habits you've formed will help you in operating, scaling, and building your business.
ABOUT THE STARTUP SHE CO-FOUNDED: THE AFTER SIX CLUB
The After Six Club works and collaborates with the Philippines' leading teachers, thought-leaders, and experts of their fields to amplify and empower your potential, capabilities, and skills. We conduct seminars and workshops as a transformative networking initiative; an online show to further educate and reach out to every individual; and a subscription membership to provide a safe place for anyone to be supported for their endeavors and to connect, share knowledge and bring ideas to life.