5 Essential Steps to Grow Your Business & Unlock Its True Potential
Chartering the course of your business growth could not be more important than right now. Business owners, managers and CEOs have a tough job on their hands as they navigate through economic uncertainty, burden of regulation, pressure to low price, competition, training & retaining staff and difficulties accessing finance. Here are our 5 steps to achieving business growth and efficiency.
Create a Compelling Vision that charts your company's long-term direction, a Mission that describes its purpose, and a set of Values to guide the pursuit of the vision and mission.
Use analytical tools such as

PESTEL & Porters 5 Forces

; Think Strategically about your company's External Environment.
Use analytical tools such as SWOT analysis; Think Strategically about your company's Internal Environment.
Analyse the Industry Outlook and formulate realistic & meaningful Strategies.
Monitor performance. Initiate corrective adjustments in light of actual experience.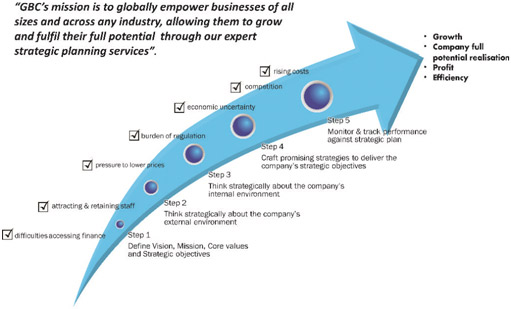 Our community loves sharing thoughts. Please share yours!