Karen, Strategy Specialist at GBC, 5 min read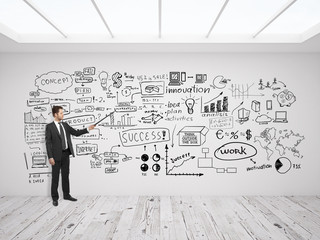 Strategic planning software can help small and medium size businesses to strategically grow and become more efficient without the high price tags of McKinsey consultants or highly-skilled strategic planning staff. A good Strategic Planning or as some refer to it as, Business Planning software must offer business owners, managers, and CEOs a detailed strategic plan derived through robust and quality analysis of the company's internal and external environment. These strategic or business planning software tools must allow business owners, managers and CEOs to work on their business, rather than working in it; as it must assess where your business is now, and it where it wants to go in future. It is essentially the course that management will charter for the business. If you are not sure on how to create an effective business or marketing plan, and need resources to create, train, and implement the plan then robust strategic planning software is a brilliant investment for your business.
Here are 5 reasons why you should use strategic planning software in your business:
1. It enables your business to be proactive rather than reactive
A formal strategic plan enables your business to foresee its future and to prepare accordingly. Through strategic planning, companies can anticipate certain unfavourable scenarios before they happen and take necessary precautions to avoid them. With a strong strategic plan, your business can be proactive rather than simply reacting to situations as they arise. Being proactive empowers businesses to keep up with the constantly-changing trends in the market and always stay one step ahead of the competition.
2. It sets up a sense of direction
A strategic plan helps to define the direction in which an organization must travel, and aids in establishing realistic objectives and goals that are in line with the vision and mission charted out for it. A strategic plan offers a much-needed foundation from which an organization can grow, evaluate its success, compensate its employees and establish boundaries for efficient decision-making.
3. It increases operational efficiency
A strategic plan provides management the roadmap to align the organization's functional activities to achieve set goals. It guides management discussions and decision making in determining resource and budget requirements to accomplish set objectives — thus increasing operational efficiency.
4. It helps to increase market share and profitability
Through a dedicated strategic plan, organizations can get valuable insights on market trends, consumer segments, as well as product and service offerings which may affect their success. An approach that is targeted and well-strategized to turn all sales and marketing efforts into the best possible outcomes can help to increase profitability and market share.
5. It can make a business more durable
Business is a tumultuous concept. A business may be booming one year and in debt the next. With constantly changing industries and world markets, organizations that lack a strong foundation, focus and foresight will have trouble riding the next wave. According to reports, one of every three companies that are leaders in their industry might not be there in the next five years… but the odds are in favour of those that have a strong strategic plan!
With the help of a strategic planning software tools, you can cut down the planning process from months to days. This is highly effective in small and medium size business as they do not have the time or money to invest in traditional business/strategic planning methods. This will significantly reduce the cost, as you will not be wasting time and resources. The basic aim of any robust strategic software is to help the business owners, managers and CEOs to chart the course of their business growth without the complexity and cost.
Try our most innovative strategic planning software to empower your business to grow & unlock its true potential. StratPlan is free to try!

Looking To Start Your Own Consulting Business? Partner With Us and run your own consulting business the way you want to, working the hours you want to!

  Download our eBook "How To Start a Million Dollar Company In Four Steps"
Download of essential eBook to Guiding Strategic Thinking In Your Business for free!

FREQUENTLY ASKED QUESTIONS
Why do I need to fill out the information requested?
We will always keep your personal information safe. We ask for your information in exchange for a valuable resource to (a) improve your browsing experience by personalising the GBC site to your needs; (b) send information to you that we think may be of interest to you by email or other means; (c) send you marketing communications that we think may be of value to you. You can read more about our privacy policy here.
Is this really free?
Absolutely. Just sharing some experience that we hope you'll find useful. Keep us in mind next time you have strategic planning questions.