What is So Great About Our Strategic Planning Software?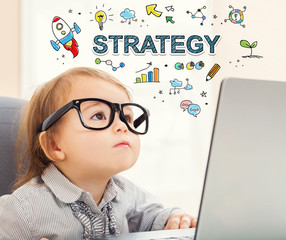 Introduction
Business owners, managers and CEOs expend a significant amount of effort and energy setting the strategic course of their business. There are a limited number of software tools at their disposal to accomplish these important tasks, and with the popularity of established analytical tools often these tasks can be performed transparently but not necessarily efficiently. However, just because strategic planning analytical tools have been around for decades it doesn't necessarily mean it can be easily used and have meaningful and realistic outputs for small & medium enterprise businesses. Often the best intentions aren't enough to keep up with today's complex environments, and this is further complicated by stakeholder interests and views. The popularity and ubiquity of analytical tools and established high-end consulting firms conspire to make effective strategic planning in small & medium enterprises a serious challenge in today's complex corporate business environments. The speed and flexibility with which strategic planning software systems can be implemented and deployed is essential for all businesses irrespective of size and so any system that can be easily deployed and remain flexible will be a welcomed essential.
StratPlan v1.0 by Global Business Consultants
StratPlan is a strategic planning software tool that is aimed at simplifying the planning process by enabling practical use of a range of analytical tools such as PESTLE analysis, Porters five forces of competition, SWOT analysis, competitor analysis, industry key success factors etc. The software tool is flexible so that business owners, managers, or CEOs can use and capture their expert knowledge about their business and industry. This enables the planning to be specific and realistic. Most importantly, StratPlan provides tangible outputs such as a Strategy Map, a Strategic Plan and a Monitoring & Tracking dashboard.
Global Business Consultants' StratPlan strategic planning software tool reduces the planning process from months to days due to its logical process flow and impressive database of pre-input principles, concepts and strategies. Business owners, managers and CEOs can select principles and strategies relevant to their business and also have the flexibility to add their own specific principles and strategies.
StratPlan's monitoring & tracking feature provides visibility into the progress made towards achieving the company's strategic plan. It also tracks who changed what, where, and when, and who has access to what. It also allows you to monitor developments, evaluate performance, and initiate corrective adjustments to your company's vision and mission statement, objectives, or strategy in light of actual experience, changing conditions, new ideas, and new opportunities. It is also a vital tool that can be leveraged to perform forensic investigations into business inefficiencies.
Installation
The installation of the product is simple and straightforward. The StratPlan installation guide recommends that the software could be installed on any workstation. I would recommend installing it on a dedicated management workstation or laptop, as opposed to installing it on an everyday system. StratPlan also requires Window 7 Service Pack 1 or later. Once the installation prerequisites have been met, choose "run anyway" when prompted with the "windows protected you" message.
Summary
StratPlan is an incredibly easy to use software and a powerful strategic planning tool. This quick product review barely scratches the surface on the capabilities it provides. In my brief time spent with the product, I can tell you that it will definitely make your strategic planning simple. It will be a tremendously valuable addition to any organization that is serious about business growth and strategic planning, as the strategic map, strategic plan, database of generic strategies and monitoring & tracking dashboard are sure to save a lot of time and frustration undertaking strategic planning.
StratPlan v1.0 has a clean, intuitive, and well laid out navigation screen that is very easy to use and navigate. Information and details are easily discoverable, and the initial welcome screen provides helpful guidance for getting started.
Product Rating
I really enjoyed working with and evaluating this important strategic planning software. It is mature and robust, and I really can't identify any features that are missing to provide full comprehensive analytical tools. With that, I give this product the highest 5 out of 5 rating.
Rating: 5/5
More information about StratPlan v1.0 or download a free trial visit globalbusinessconsultants.com.au/partner.
– Karen Kistan –
Feel free to Comment on this article. Our community would love to hear your insights.