Sam Lee Mohan, Founder & CEO at GBC, 2 min read, 8 min video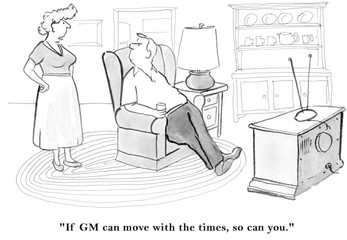 What developments and ongoing trends is altering the landscape in your industry?
Have you ever wondered why, no matter how much you know about your competitors and react to their strategic moves, you never seem to keep on top of your revenue and profits? Have you ever wondered what else could be driving your revenue and profits south? The answer is Industry Change. Notwithstanding the critical importance of understanding the nature and intensity of the five competitive forces in your industry, it is equally important to understand that the strength of these five forces vary and are subject to change. So, you may ask, "what's causing these forces to change?"  Industry conditions are constantly being altered by new developments and ongoing trends. Essentially, this means that the strategies formulated by management will be played out in a ever-changing and dynamic industry environment. So, it is imperative that business owners, managers and CEOs consider the factors that are driving change in their industry and how that change(s) may affect the industry environment.
The main reasons for changes in the industry and competitive conditions are because forces are pressuring and enticing industry participants, such as customers, suppliers and competitors to alter their actions in important ways. Now wouldn't it be nice if participants will notify all members of the value chain of impending changes. Accepting that that does not happen and unlikely to in the future, management must assess these changes so that managers can influence the direction or scope of environmental change and improve the outlook. In StratPlan, our framework, which is an industry standard – tried-and-tested model, incorporates three important steps for analysing Industry Driving forces: (step 1) Identify what the driving forces are, (step 2) assess whether the driving forces, on the whole, are acting to make the industry more or less attractive, and (step 3) determine strategy changes needed to prepare for the impact of the driving forces.
I hope by now, you are starting to see that only what is absolutely essential has been included in StratPlan. Drivers of Industry Change is fundamental to crafting a realistic and meaningful strategy and was therefore uncontested for inclusion within our 5 Step Framework in StratPlan. Here's a short video to show you how to analyse Industry Driving Forces in StratPlan. I hope you find the video useful.
Please leave me your comments. I would love to hear from you…
Start your own consulting business and Partner With Us. Retain 100% of all your profits.

Try our most innovative strategic planning software to empower your business to grow & unlock its true potential. StratPlan is free to try!

Download of essential eBook to Guiding Strategic Thinking In Your Business for free!

FREQUENTLY ASKED QUESTIONS
Why do I need to fill out the information requested?
We will always keep your personal information safe. We ask for your information in exchange for a valuable resource to (a) improve your browsing experience by personalising the GBC site to your needs; (b) send information to you that we think may be of interest to you by email or other means; (c) send you marketing communications that we think may be of value to you. You can read more about our privacy policy here.
Is this really free?
Absolutely. Just sharing some experience that we hope you'll find useful. Keep us in mind next time you have strategic planning questions.