Sam Lee Mohan, Founder & CEO at GBC, 3 min read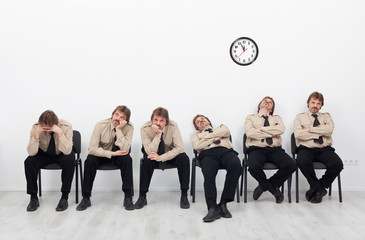 Don't Slow The Team Down Waiting For One Other…
Do you work in a company where everyone is completely dependent on each other? I know it sounds crazy but I've seen so many companies where everyone, at some point in their day, is sitting on their hands waiting…waiting for this person to that so that person can do this. I know most of you reading my blog would have been part of a team at some point in your career, that couldn't start something because they are waiting for another person or team to finish what they were doing first. These dependencies are so intertwined and mangled within the teams that they can't move independently of one another.
In this beautiful age that we live in, most companies don't have to work like that but amazingly, they still do. Why? Unless you're in an industry that requires an assembly line, like building submarines or aircrafts, then yeah…waiting on individuals and teams is part-and-parcel of that industry. However, most companies are not in such industries. Let's explore this further. Let's say you're in manufacturing, building lounge suites. If your company makes three-seaters and two-seaters and the two-seater team cannot complete production until the three-seater teams have completed theirs, that's crazy. I would even go to the extent saying it's crazy if the fabric cutting team for the three seaters cannot start cutting the fabric until the assembly team has completed assembling the three-seaters. That's just wrong and creates artificial dependencies that sojourns separate teams from working independently. This artificial dependency grinds down production, slows everyone down and creates a barrage of frustration.     
You may say waiting prevents errors or rework. You have identical suites coming of the line, right? You have experienced staff and defined procedures, right? If the two-seaters go out before the three seaters, who cares? It'll be fine. In fact, it is very likely that it will be better. Better quality workmanship because of less frustrated staff, distributors and retailers not waiting and staff not sitting around. Everyone is working independently of each other, not sitting on their hands.
At GBC, every team and every individual works independent of each other. We have common email accounts, phone-hunting software and a great team-work culture, so our customers are never left unattended. Each team member can handle any issue, any query independently of each other. We have the best Customer Relations Software so that everyone can see who's dealing with what to avoid double handling. At GBC, every process is established with the concept of "fuzzy boundaries" – meaning that any process can start without being completely dependent. So, keep an eye out for dependencies in your business. Break dependencies apart and implement the concept of fuzzy boundaries across all your processes.      
Sam Lee Mohan


Your future starts here. Partner With Us and run your own consulting business the way you want to, working the hours you want to! 

 Download our eBook "How To Start a Million Dollar Company In Four Steps"
Try our most innovative strategic planning software to empower your business to grow & unlock its true potential. StratPlan is free to try!

Download of essential eBook to Guiding Strategic Thinking In Your Business for free!

FREQUENTLY ASKED QUESTIONS
Why do I need to fill out the information requested?
We will always keep your personal information safe. We ask for your information in exchange for a valuable resource to (a) improve your browsing experience by personalising the GBC site to your needs; (b) send information to you that we think may be of interest to you by email or other means; (c) send you marketing communications that we think may be of value to you. You can read more about our privacy policy here.
Is this really free?
Absolutely. Just sharing some experience that we hope you'll find useful. Keep us in mind next time you have strategic planning questions.