Sam Lee Mohan, Founder & CEO at GBC, 5min read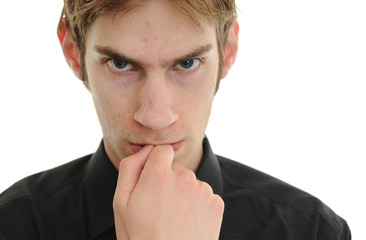 A practical example of acquiring knowledge through a virtual master-mind group
Accumulation of wealth starts with desire. When your desire is turned into a "burning desire" then only can you start your journey towards  wealth ACCUMULATION. This is nothing you have not heard before, as Napoleon Hill in his great book "Think And Grow Rich" explained this philosophy best. Having definiteness of purpose brings about definite plans to accumulate wealth and importantly, give you a roadmap to achieving your dream. You may be wondering at this moment, 'sure…having a burning desire and definiteness of purpose does not give me the intelligence of a specific product or service I need to commence building my dream company'. Well, I'm going to give you a practical example of acquiring knowledge through a "virtual master-mind" group.
Being the fountain of all knowledge does not guarantee you wealth. Let's take teachers for example; they have knowledge and they can teach knowledge. Even though they have all this knowledge they are not super-wealthy and most would be on average wages.  However, what you do with that knowledge, in practical terms, is what counts. So, I believe that having specific knowledge is not the most important thing. Knowing where to acquire specific knowledge and how to use that knowledge is more important to wealth acquisition. Let's look at Henry Ford. He was not the most "schooled" person but was undoubtedly an "educated man". By educated, I mean he knew where knowledge resided (in people), and importantly he knew how to wield it and use is it to accumulate wealth. The group of people that Henry Forward commanded had the SPECIFIC knowledge about building cars and that became his "master-mind" group. His "master-mind" was the people whom had definite knowledge in motor vehicles and he tapped into that knowledge to build his fortunes.
With the burst technology in our modern world, we are fortunate enough to be able to create the best "master-mind" groups without even having ever met the individuals. Technology has allowed us to create multi-million dollar businesses without leaving our homes, manage staff across continents and easily, create on-line "master-mind" groups. So, to show you just how simple it is to tap into a virtual master-mind group, I posted a simple question to a group of 70k+ strategic planning professionals. Here's the question,
"If you could give me one piece of advice in Strategic Planning, what would that be? What's your one thing that you could teach me?"
The Reponses to my question, was overwhelming. Now, to demonstrate my point, do not concentrate on the question nor the specific answers, but merely on the number of responses and willingness of people to share their knowledge. I have not edited any of the responses. Here's just 30% of the responses I received within 1 week.
"Just do it". First piece of advice is to do the strategic planning. Too many leaders talk about it but never really give it some time, focus, and do it." Second piece of advice, "Share it". Lewis Carrol in "Alice in Wonderland", wrote "If you don't know where you're going, any road will get you there." Repeatedly share the strategy with everyone in the organization so everyone is headed in the same direction."
"Organizational strategy is never one-and-done. It's okay to adjust as necessary. But it's most important to have a strategy, and that everyone knows it."
"Since the Strategic Plan is a road map (and as Kenneth said) make sure everyone agrees with the long term goal (Vision). Then make sure the Board plays a key role in the process (i.e. through a Planning retreat, approvals, progress monitoring, and continued relevancy) so they take ownership in the success of the Plan."
"If there was one thing that I could teach you (as you asked for), it would have two parts: 1) the difference between a strategic plan and a business plan, and the 2) importance of having a business plan if you're a small business."
"The content of a business plan is especially useful for small businesses, which is why investors usually ask for a business plan. It includes, for EACH different product, a description of:
The product or service
Its various market niches, and how you verified them.
The features and benefits for those customers.
How you will develop the product or service.
Your pricing structure.
Your competitors.
Your unique value proposition.
How you will promote the product or service
How you will manage it.
How you will break even and make a profit."
"I'm not "dissing" a strategic plan. You need both in some form. But the success of your business will rest at least as much — if not more — on a business plan :-)"
"Hello Sam, I'm part of a coworking space in my city. I'm fortunate to talk with lots of business owners – newbies and veterans alike – and these communities are great for understanding what's actually going on at the pioneering edge of things. You'll find most of your entrepreneurs, innovators, rebel consultants and nfp founders there."
"A recurring theme that I'm always seeing is to go into the (battle)field and test what you think you know, especially with a team so that we don't delude ourselves with our business ideas. That's going to inform both the strategic plan and business plan. You're bound to learn something."
"Mike Tyson said it best. "Everyone's got a plan until they get punched in the mouth." Markets are unpredictable. Speed and execution are crucial assets."
"So, find communities with an entrepreneurial streak. Coworking spaces are great for that. Soak in the insights and energy. Coworking spaces actually love visitors. Perth has one called Spacecubed. Try that out."
"Keep an open mind and focus on the strengths and opportunities."
"Love this! My one piece of advice in strategic planning is Assign It. Accountability is a huge driver in the success of any strategic plan."
"Give each board member a Company Hat! Have it on their place at the Board table. Emphasize that they must have the Company in mind not individual, special or political interests in mind. Never heard that one hey?? Good luck!"
"Don't forget to include your Human Resources. Your employees will be your biggest investment so invest just as much in planning your workforce as you would everything else. Your strategic planning will fall apart without the right people to carry it out."
"How?" so that you are realistic."
"I've facilitated strategic planning sessions and write business plans. Agree wholeheartedly."
"Consider a lean approach… more at https://hbr.org/2016/03/lean-strategy Noted in this ""Srategy and entrepreneurship are often viewed as polar opposites."
"Strategic Planning" is a PROCESS, not an EVENT."
"Stay focused on mission"
"Does your workers understand the vision of the organisation…The why factor?"
"Expect the unexpected."
"To know, at its base, a strategic plan is a map to the organization's future. And, that there are two key parts of any map. First, there are "places" (e.g. hours worked, events held, training provided, etc.). Second, there are "roads""
"Ensure they have discussed, understand, and agree upon their core business via a Shared Strategic Vision."
"Thank you for your advice. Do you have a mechanism that you find works best to engage staff with a strategic plan?"
"Indeed, a critical question for any small business and responses are solid. My one piece of advice is before one gets started be certain of your target customer/consumer market and stay focused on why you are in business (as in your product, service, etc.)."
"Pretend your organization is extremely successful five years from now. What does that success look like in as much detail as possible. Then figure out how to make it actually happen."
"Alignment of an organization's strategic plan and budget is critical."
"Green attention to your intention."
"Focus on your end goal — your outcomes and impacts. And don't try to do everything; be intentional, focused, and realistic."
"Before you start, ask yourself: What results do you want? Can you describe your goals in ways that are measurable? What are the first steps you need to take to get there? Use lists daily. Prioritize the most important tasks; do them first. And so on until you have a work plan and progress toward your goal."
"Be attached to organisation mission and vision, divid your objectives on yearly basis ( operational plan)"
"live your value proposition…what do you have to offer that's worth other people investing in? investors/donors expect a return on investment."
"First of all identify your Strenghts, Weakness, opportunity & Threat."
"From these, you can make various strategic options –
1) SO- Strenghts can be used to capitalize on opportunities.
2) ST- Strenghts can be used to minimize threats.
go to method kit and strategyz as they it includes new perspective for business"
"Don't plan beyond your means. if you lack the resources to execute, strategic planning is at best time wasted, at worst a detour into self destruction."
"If you had twice the resources what would you do? If you had half the resources what would you do? Now study those Venn diagrams and focus on the intersection as those are your core."
"To expand on my previous input and build on some of the excellent additional comments:
With thanks to Lewis Carroll, "If you don't know where you're going, any road will get you there".
Regardless of what "strategic" words get developed"
"Clarify your vision and mission, then align your goals and objectives around that. Set some milestones and stay accountable with an action plan."
"Develop a realistic plan for cash flow and stick to it."
"The strategic planning process needs to be respected as its own system – plans need to be dynamic and inclusive as they are created – meaning that without enthusiastic value-add from all key stakeholders – without good system INPUT – the planning PROCESS , and final OUTPUT, will be stale and ineffective."
"Align your KPIs to your employees performance objectives and review quarterly. This will ensure they are focused on the right work and collectively working towards common objectives."
Having an idea is the first step towards accumulating wealth. Having definite plans is the next step and not possessing the specific knowledge of your product or service should not be a show-stopper. A virtual "master-mind" group has been made possible by technology. Use it and move yards closer towards your goal of accumulating wealth.
Sam Lee Mohan
Founder & CEO at GBC


Start your own consulting business and Partner With Us. Retain 100% of all your profits.


Try our most innovative strategic planning software to empower your business to grow & unlock its true potential. StratPlan is free to try!


Download of essential eBook to Guiding Strategic Thinking In Your Business for free!


FREQUENTLY ASKED QUESTIONS
Why do I need to fill out the information requested?
We will always keep your personal information safe. We ask for your information in exchange for a valuable resource to (a) improve your browsing experience by personalising the GBC site to your needs; (b) send information to you that we think may be of interest to you by email or other means; (c) send you marketing communications that we think may be of value to you. You can read more about our privacy policy here.
Is this really free?
Absolutely. Just sharing some experience that we hope you'll find useful. Keep us in mind next time you have strategic planning questions.