Sam Lee Mohan, Founder & CEO at GBC, 4 min read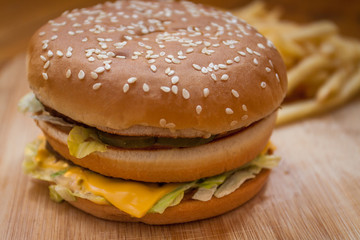 "NEW YORK, Dec. 27, 2011 (GLOBE NEWSWIRE) — With three days of trading left this year, McDonald's Corp. is on track to lead all 30 components of the Dow Jones Industrial Average in stock performance for 2011, according to data compiled by Dow Jones Indexes."
Do you recall in 2011 when the global economy starting to slowdown and consumer confidence was in decline? I'm sure many of you would recall this very difficult period in our history as many are still suffering the impact of the global financial crisis. It was and to a large extent, still is, a very trying time where businesses had to shut its doors, people lost their jobs and homes and many businesses that managed to stay afloat had to downsize. Whilst we were experiencing the nasty effects of the GFC, something extraordinary was also happening…something truly remarkable.
Now in 2011, while we were facing global economic slowdown, I recall McDonald's setting new sales records despite the slowdown. Did you know that more than 64 million customers visited one of McDonald's 33,000 restaurants in 119 countries each day in 2011? Yep, that's a fact. These extraordinary sales records allowed the company more than $27 billion in revenue and $5.5 billion in earnings. On the Dow Jones Stock Market Index for 2011, McDonald's performance made it the number one performing company with a 35 percent return to investors, ahead of the likes of Pfizer, Chevron and Exxon Mobile, to name a few.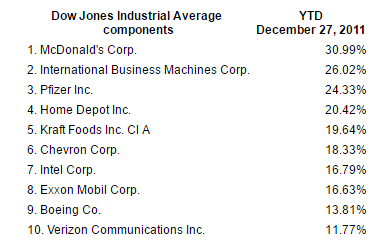 Source: Nasdaq Global Wire
McDonald's success continued into 2012 amid the ongoing economic uncertainty with its global sales increasing by 4 percent in the first quarter. When investigating the underlying reasons for McDonald's success, it can be attributed to a well-crafted and executed strategy. MacDonald's "Plan-to-Win" strategy focused on "being better, not just bigger".
The key elements of McDonald's "Plan-to-Win" strategy entailed:
Improving its restaurant operations. Activities included employee training programs, leadership training for high potential employees, and store manager business training.
Keeping prices low. By scrutinizing its operating costs, renegotiating its contracts and reviewing its corporate expenses, McDonald's kept its pricing low.
Menu variety and choice of beverage. McDonald's expanded in menu beyond the usual quarter pounder and big-mac to include a range of healthy and quick service items. It also opened McCafe.
Convenience and new dining experiences. McCafe's increased sales by allowing the extending dining hours. Also, the move to 24-hour drive throughs meant McDonald's meals at all hours of the day.
Restaurant reinvestment and international expansion. With more than 14,000 restaurants across America, McDonald's embarked on global expansion to growing markets such as China. The company also refurbished 90 percent of its stores in 2012.
Ultimately, the heart and soul of McDonald's strategy were the actions and moves in the marketplace that the company took to gain competitive advantage. Regardless of the type or size of company, strategic planning is the essence of survival, growth and business efficiency.
Your future starts here. Partner With Us and run your own consulting business the way you want to, working the hours you want to!

 Download our eBook "How To Start a Million Dollar Company In Four Steps"
Try our most innovative strategic planning software to empower your business to grow & unlock its true potential. StratPlan is free to try!

Download of essential eBook to Guiding Strategic Thinking In Your Business for free!

FREQUENTLY ASKED QUESTIONS
Why do I need to fill out the information requested?
We will always keep your personal information safe. We ask for your information in exchange for a valuable resource to (a) improve your browsing experience by personalising the GBC site to your needs; (b) send information to you that we think may be of interest to you by email or other means; (c) send you marketing communications that we think may be of value to you. You can read more about our privacy policy here.
Is this really free?
Absolutely. Just sharing some experience that we hope you'll find useful. Keep us in mind next time you have strategic planning questions