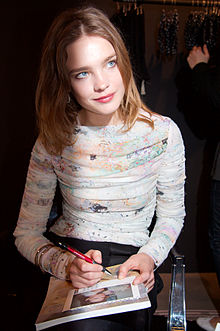 From selling fruits on the streets with her mother to setting up her own fruit stand to becoming a millionaire. Natalia Vodianova, nicknamed Supernova, grew up in a poor district of the city Avtozavod with her mother and two half-sisters.  When Vodianova was a toddler, her father walked out on the family and it was only when she became famous, he made contact. Struck by poverty, Vodianova would later set up her own fruit stand with a friend to help her family out of poverty.
Aged 15, Vodianova chartered the course of her future – enrolled in a modelling agency and by the age of 17, she signed with Viva Models and moved to Paris. Since her move to Paris, Vodianova has walked in more than 400 runway shows for American and European designers. Vodianova is now the founder of the Naked Heart Foundation, a philanthropic organisation that strives to provide a safe and inspiring environment in which to play for every child living in urban Russia and to help support families raising kids with disabilities. In 2015, Vodianova launched 'Elbi App' to allow people to donate money with a 'Love Button', create content, send messages, and vote.
Worth over USD$28 million, Natalie Vodianova makes our inspiring list of rags-to-riches stories.
Feel free to post your comments. Our community loves hearing your thoughts!